New releases of school census data from the National Pupil Database
National Pupil Database / October 9, 2016
In response to yesterday's article in the Guardian #BoycottSchoolCensus: why parents are refusing to reveal their child's nationality we feel it important that the latest numbers and types of data disclosed from the National Pupil Database (NPD) are made clear.
Most releases are of sensitive and identifying data, and pupil-level. The aggregated data are least requested.
Tier 1 are the most identifying and highly sensitive and individual level. Tier 4 are also individual level and identifiable but less sensitive. Ref: the NPD User Guide. (pp 19-21) This is where the data from the School Census end up as a linked set of datasets, becoming the National Pupil Database.
The majority of releases, 553+ since 2012, were of identifying, individual pupil-level, sensitive data.
Details identifying individual pupils ARE divulged by the Department for Education to data recipients, but they in turn must not onwardly disclose data through their use or publications in the press, research or commercial work.

All the uses may include every child's data collected in the school census, now in the NPD.
Of the 709 requests and releases of identifiable data that have been through the DfE request process in 2012-2016, only 23 have been for aggregated data.
270 Tier 1: individual level, identifiable and highly sensitive
283 Tier 2: individual level, identifiable and sensitive
23 Tier 3: aggregated but may be identifying due to small numbers including single counts
66 Tier 4: individual level, identifiable and non-sensitive
54  unclassified (include sensitive and identifiable data).+
13 unclassified requests were rejected.
Which types of data ranging from name, date-of-birth and address, through special educational needs health related data, to attainment, absence and exclusions and more can be seen in summary (pp 26-35). The NPD User Guide also says (p25), 'the identity of a pupil cannot be discovered using anonymised NPD data in isolation' we feel it is misleading. While that may be true, they also give access to named data. All releases are identifying. Anonymous statistics are released separately from this process, not to be confused with these releases.
Sensitive data include things like reasons for exclusion such as Physical assault, Sexual misconduct, Drug and alcohol related or Theft. A range of special needs information.
All these types of data are at individial pupil level. Ethnicity codings are highly detailed, and is a vast list covering six A4 pages on the School Census User Guide [pp 130-136].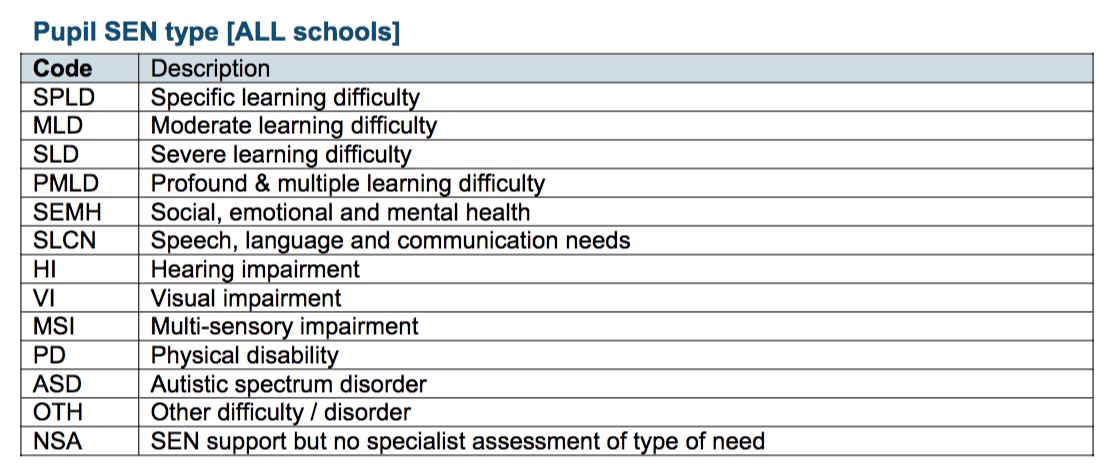 What gets requested and released include sensitive data
This example below is from a television journalist requesting Tier 1 and Tier 2, sensitive and highly sensitive, individual pupil level data. Journalists receive multiple years and millions of children's data. How many, the Department cannot confirm. At the time of asking, July 2015, they had never done any external audits. Just sent data under a 'release and forget' style approach. While the recipients agreements required destruction it was not followed up. When we enquired, the Telegraph had received sensitive pupils' data in 2013, but not confirmed its destruction past its due date.
Since our Freedom-of-Information requests in July 2015, the Department started to publish and confirm destruction in the Third-party-release register. We await to hear when they will start a regular mechansim of audit.
790 releases is hardly 'a small number.' And don't forget, it is not small data either. We're talking about 20+ million records.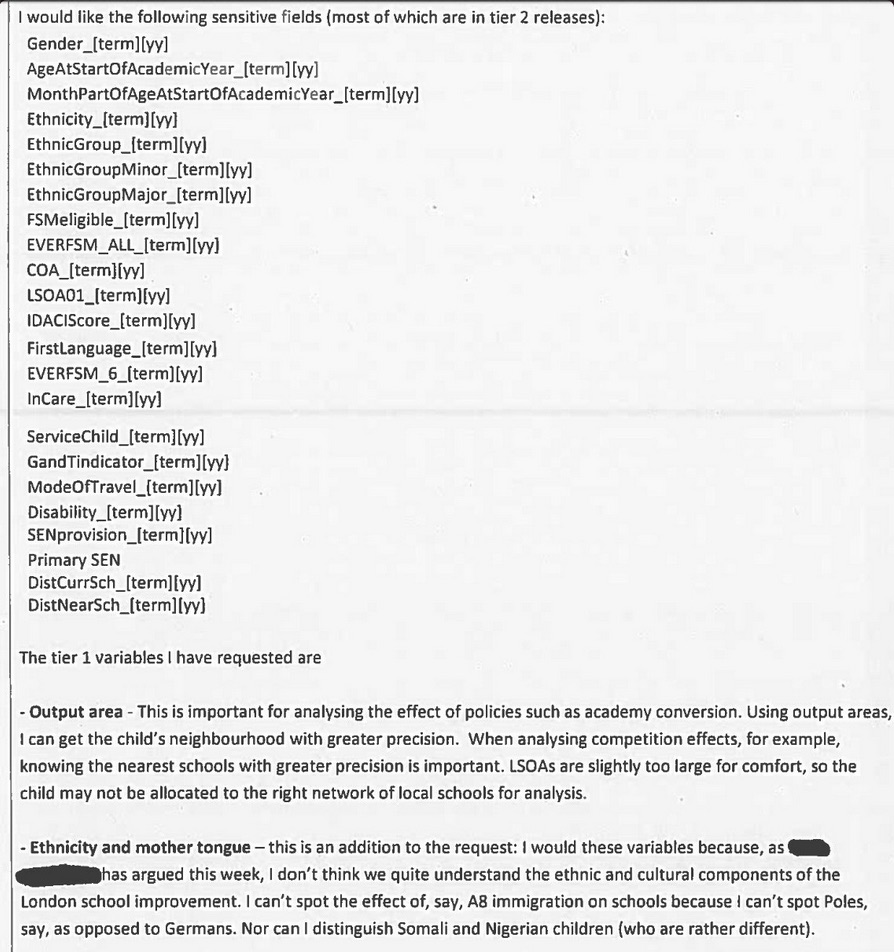 Releases missing from this register
The third-party register includes the disclosures of the last 4 years  March 2012 to March 2016 but it has left out the Back Office releases to Home Office and Police confirmed only in this Freedom-of-Information request. We do not yet know the full volume of those releases of pupils' name, home, and school address requested almost 2,500 times in 15 months by the Home Office, for the purposes of immigration enforcement, condemned in a motion of regret in the House of Lords.
[updated October 15: we now know that individual pupil home address and school address are made avaialble to the Home Office "The Home Office requests are to support the Home Office
Absconder Tracing Team's (NATT) key objectives and commitment to upholding a duty of care for missing children and abuse of immigration control."
As the Guardian reported this week, after they had spoken to the Department for Education.
"The individual details of children's schools and home addresses were supplied in response to requests from the Home Office's absconder tracing team looking for parents who had disappeared after being told they faced deportation…" 
If you are concerned about adding country-of-birth and nationality to this
Over 20 rights' organisations have written a letter to the Secretary of State calling for it to be rethought. At this time, we recommend anyone with concerns about this collection also follow the campaign group Against Borders for Children (ABC), schools branch. We support their advice to withhold children's nationality and country-of-birth data until the transparent use, including by all government agencies, and future scope become clearer and the verbal assurance given that the new data 'would not be shared with the Home Office' is backed up with something that can be relied upon in future, as people and scope demands change.
Unless all uses and limitations are clear, we are calling for the new school census expansion law to be scrapped, that was snuck through in the six week parliamentary summer holiday without scrutiny before it came into effect on September 1st.
[We updated this post on Oct 9 at 14:30 to post the second half as a separate post here.]