School census national pupil data expansion: status Nov 5
National Pupil Database / November 5, 2016
November 3: Schools Week reports former Secretary of State for Education Nicky Morgan "had to 'fend off ideas' from Downing Street" including blocking plans to share the new census information and that passing on the specific data to the Home Office was "not something we would want to see."
This calls into question the Department's tranparency about its purposes of the collection.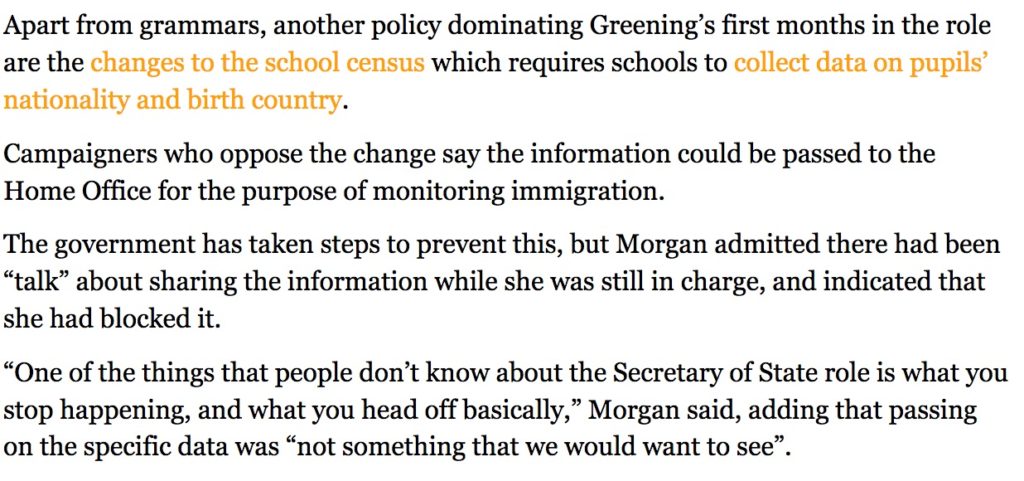 ---
October 31st: the House of Lords agreed a 'motion of regret'. While the law and the policy are unchanged, it sends a strongly critical objection from the House of Lords to the government. It signals support for all who oppose the collection of country-of-birth and nationality data, and the highly intrusive, divisive and damaging policy. [Hansard transcript]
Lords say, "this proposal has all the hallmarks of racism", "Parents are upset, not just about how this information might be used but because these questions are asked at all," and that "DfE denials of any ulterior motive do not sound convincing."
---
October 27: Nick Gibb answers written question 48635, "how many Home Office requests for information to the National Pupil Database for individual personal confidential data that have been granted were for the purposes of immigration control?"
Between July 2015 and September 2016, the Home Office has made requests relating to a total of 2,462 individuals and 520 records have been identified within DfE data and returned to the Home Office.
This follows revelations in Freedom of Information requests Ref: 2016-0042333 answered on  October 6 and Ref: 2016-0032573 in August. The Home Office using pupils' named data to access individual home address and school address, including for immigration enforcement, had not been disclosed or discussed by the DfE before.
---
October 27: The National Union of Teachers calls for this use of pupil data to end, emphasising that "schools are not part of policing immigration".
"Government has not been entirely transparent about the uses to which individual pupils' information may be put; in particular, the third parties to whom such information may be disclosed. What we want is a guarantee from the Government that personal information will not be passed to the Home Office, so that it is clear that schools are not part of policing immigration."
"Furthermore, we disapprove of the way in which information has been released from the National Pupil Database without informed consent. Government needs to ensure that use is consent based – again, so that relations between schools and parents are not compromised."