Leading advocates join campaign for children's rights and pupil privacy in Education #LabelsLastaLifetime
pupil privacy transparency / December 10, 2017
On International Human Rights Day leading NGOs in England are calling on the Department for Education to respect children's data privacy, or pause the start of a new national data collection of sensitive data in Alternative Provision from Jan 2018
In a letter to the Secretary of State for Education, we make nine recommendations, with support from over twenty organisations, calling on Justine Greening to:
Make children's personal data safe
Respect children's confidentiality
Tell children and parents how their data are re-used.
Download [original letter as sent by post and email] December 11, 2017 and email introduction.
Update January 2018: we wrote to the new Secretary of State for Education, Damien Hinds, after the Cabinet reshuffle.
---
We have warned that the new national data collection in the Alternative Provision Census will put children at risk.
The Department for Education will collect highly sensitive information about school children who transfer from mainstream school into alternative provision education, from January.
Children will be named at individual level with the reason for their transfer. Those reasons will include a mental or physical health need, pregnancy, and whether a child was moved to a young offender institution or secure training centre.
We appreciate and support the need to understand the reasons for pupil Alternative Provision transfers, in particular concerns about children "managed out" from mainstream school to boost league table results. But this knowledge should not compromise any child's confidentiality. These labels last a lifetime, are handed out to third parties, and never deleted.
Children have a right to be involved in decisions about them, and right to inclusive education. The UNCRC, and the Human Rights Act 1998 also support children's fundamental right to privacy.
Adding the new labels to children's records to the National Pupil Database and their distribution for commercial re-use, pose significant new privacy risks, despite the Minister's claims to the contrary. There has never been any privacy impact assessment or human rights assessment of the growing database of 23 million people, and the Department refuses to do so. The DfE wildly underestimates the risks.
Over 1,000 requests for  re-use of confidential pupil records from the database have been approved by the Department for Education since March 2012. A wide range of companies, charities and third-parties, have applied to receive the personal data since a change of law in 2012.
It appears to have no intention to tell the schools children leave, or Local Authorities responsible for the census, exactly how to inform parents and children about the details of this data collection. Especially as the collection is retrospective. Children and parents do not know how their data are used today. The privacy notices the Department draft are completely ineffective.
If the Department of Education cannot stop the distribution of identifying data for indirect purposes and commercial re-use, and commit to children's confidentiality, we believe the government should not collect the data at all.
Alliance for Inclusive Education ALLFIE
John Carr OBE, Secretary, Children's Charities' Coalition on Internet Safety (Its members are: Action for Children, BAAF, Barnardo's, Children England, The Children's Society, ECPAT UK, Kidscape, NCB, NSPCC, and Stop It Now!)
Dr Pam Jarvis, Chartered Psychologist, social media researcher, teacher and grandparent
Dr. Ansgar Koene, Senior Research Fellow: University of Nottingham
Professor Sonia Livingstone OBE, London School of Economics and Political Science
Joseph Savirimuthu, Senior Lecturer in Law at the School of Law and Social Justice, University of Liverpool
---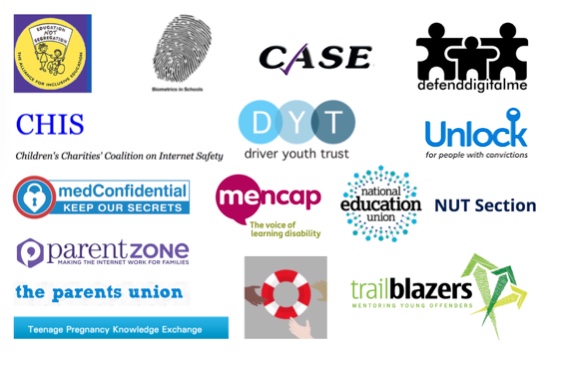 The Education (Information About Children in Alternative Provision) (England) Regulations 2017 came in over the summer holidays.
---
What you can do
If you are a concerned parent, teacher, organisation or young person, take action here.
For more information or questions, please contact us here.  #LabelsLastALifetime