Our week's edu news highlights
edTech news / March 30, 2019
Calendar week 13. What's happened this week? In case you missed it, the big themes hiding among Brexit on edu Twitter, included mounting pressure on the floundering accountability system.
The data have landed
"There is a growing sense that the current system doesn't need tinkering with – it needs to be scrapped." Ed Dorrell reflected in TES.
BBC Panorama investigated organised cheating at primary schools in SATs. It exposed how scores at a number of schools were falsified over a three-year period. "The data was exaggerated to inflate how the school was performing. They would say 'change that one, change that one'. It follows a number of investigations into gaming the results.
When a measure becomes a target, it ceases to become a good measure. The system isn't working for pupils and schools. They're working for the system. There's data overload, and high stakes testing is driving schools to desperate measures to meet expectations. That it takes its undue toll on staff. Around two thirds of school leaders report that workload is a barrier to teacher retention, and in response to questions about teacher retention, the government acknowledges a need to reduce workload "so that teachers can concentrate on teaching, rather than bureaucracy."
Change is needed in children's best interests too. We disagreed with Damian Hinds when he suggested in the i, that these results "don't count" for individuals in the long term, and you can read our thread on why.
You have to remember, these are intended to be used to measure the school, not the child.
Gameplaying. Cheating. Inflating results. Setting kids up with unreliable progress 8 targets at GCSE. And all of these 'primed' scores, get shared with thousands of third parties, are mis-used in Local Authority children's 'risk scoring', and on a child's record for life. Can we re-imagine an accountability system, that prioritises professional trust?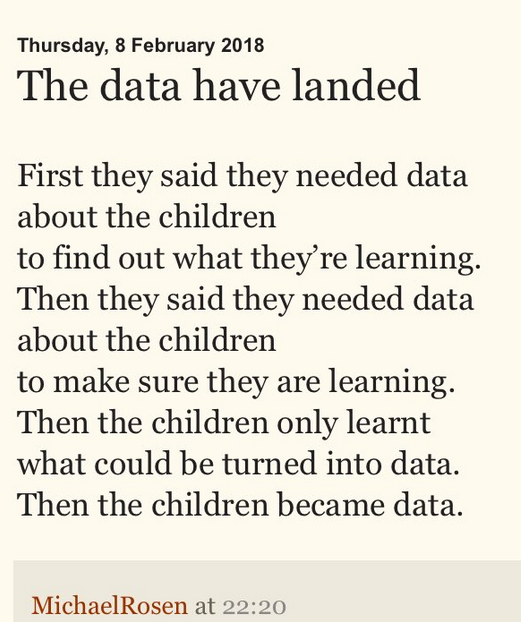 In edTech
The Education Endowment Foundation published four realistic reflections on the state of edTech in schools this week in the TES. We spent a day at the ICT for Education event in Brighton, talking with providers, vendors and school staff. And also in discussion with further vendors during the week, researching for the State of Data 2019 Report.
We're hearing calls for "greater collaboration" between schools and providers, which sounds fine, but aware of some poor quality products on the market, we are wary of the broad suggestion that "early stage edTech companies should be given more opportunities to test and develop programmes and interventions." The EEF has now run RCTs in a third of schools in England. What difference has it made? We say, our children are not guinea pigs for training and trialling your commercial products or ideas. Bring them to school children, only when they work. Children have a human right to education, and are not sitting in state schools waiting to be your test subjects. #ChildrenNotCrashTestDummies
BoycottSchoolCensus
Against Borders for Children published a blog with links to a school level template for schools to retract all their pupils' nationality data, and to object to processing by the Home Office of any pupil data (name, address, DOB, school) for immigration enforcement. Families and children can still complete and hand in their own forms to their school too.
Missing in action: where are the Risk Assessments?
The Department for Education appears to have failed to provide the Data Protection Risk Assessments for the National Pupil Database and the Alternative Provision Census, both promised by the end of the first quarter of 2019. But where are they?
Stats of the week
We've submitted two consultation submissions. One on FOI, and a second related to children's health data. Our Director Jen, spent 16 hours on trains, 12 hours in meetings, 4 hours in planes. Plus 2 hours in TV studios, for the TRT Roundtable discussion on sharenting.